SJ Imports ltd. was incorporated in 1986 in the Province of British Columbia, Canada. At the beginning the company was more focussed towards providing brass decorative giftware and door hardware to the people of Canada.
In 2002, SJ Imports Ltd. changed its direction and focused more on providing innovative and value added hardware products and accessories to the builders industry. While adopting this change, the company's commitment to meet the customer needs was the top priority. As a direct importer for most of the products in the catalogue and a local manufacturer of certain non standard items that have become the basic needs in the growing residential and commercial housing industry, SJ Imports Ltd. launched its door hardware division under the name Reliance Locks & Hardware and registered its trade mark in Canada.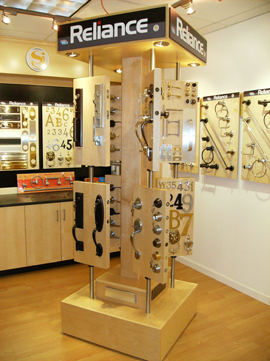 In British Columbia SJ Imports Ltd. has been dealing with most of the door pre-hangers, manufacturers and retailers offering a variety of Door Locks, Hinges, Bathroom Accessories, Mail Boxes, Mail Slots, Numbers & Letters, Door & Window Accessories, Escutcheon Plates, Bi-fold Cabinet Knobs & Pull Handles, and Security Plates. Not to mention, the introduction of our new Modern Stainless Steel Door Pulls ranging from 10″ to 60″  and contemporary stainless steel mail boxes of various designs.  Most of our door hardware is available in finishes such as: Brass, Polished Chrome, Brushed Chrome, Satin Nickel, Antique Nickel, Antique Brass, Flat Black and Oil Rub Bronze. We also provide custom escutcheon plates on brushed stainless steel, mirror polished stainless steel and aluminium plates.
With the commitment to providing a high quality service and value to customers across Canada, SJ Imports Ltd. in association with Reliance Locks & Hardware has also been involved in providing door hardware to the booming housing industry in the Province of Alberta. Through various outlets in Calgary and Edmonton, our products and services have continued to rise especially with our assurance of providing our customers a 24 hour order turnaround and delivery commitment.
Maintaining quality at a reasonable cost is the most important thing we do for our customers. This includes customized products and execution of deliveries on the same or next day whenever possible. SJ Imports Ltd. strives to bring in contemporary and elegant locks and door associated supplies from reputable factories with accredited manufacturing standards.
Our Head-Office and warehouse distribution centre is located in the City of Richmond, very convenient to all courier and freight providers for pickup and deliveries. Our dedicated and motivated employees are the strength of the company. After so many years of business we feel part and partial of the community growth in the Province of British Columbia and we look forward to continue with this in years ahead. We are proud of our achievements and look forward to serving our valued customers better in the future.